2022 was a great year for Walnut Capital – not only for our employees and residents but also for our communities and fellow yinzers. We've compiled some of our favorite takeaways from an action-packed year in Pittsburgh.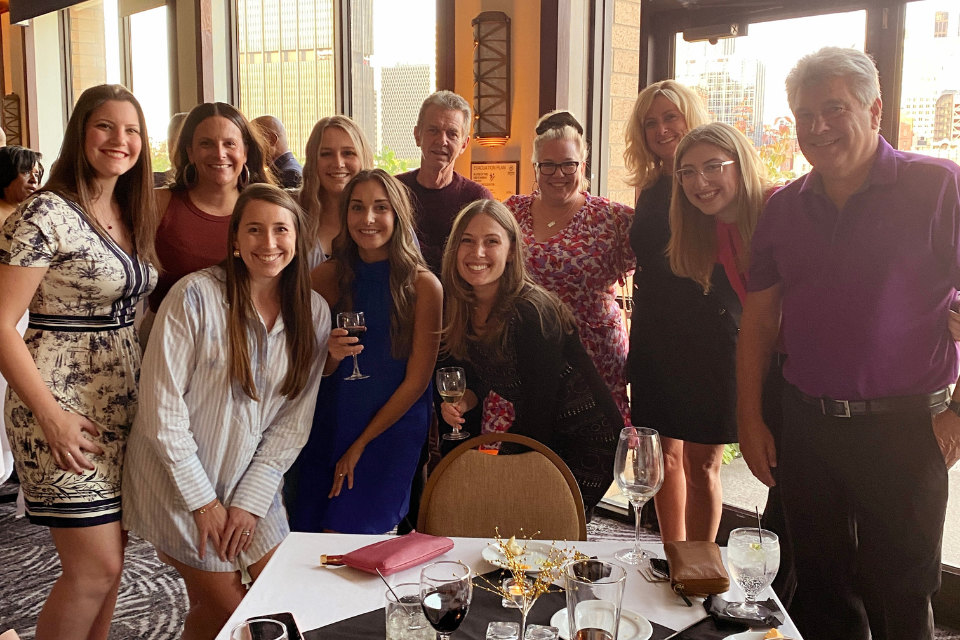 Stories Like Me Partnership
In February we hosted the very first of the Stories Like Me pop-up bookshop series at Bakery Square. Stories Like Me is committed to providing books and stories to all children no matter their circumstances. The pop-ups in Bakery Square focused on the themes Black Lives Matter, Women's History Month, Autism Awareness and Neurodiversity, and Pride. We are pleased to have played a small part in promoting Stories Like Me and are happy to have been a part of their journey leading to a new brick and mortar store in Squirrel Hill along Murray Avenue to continue serving the community.
Hosted the First Annual Walnut Capital Connect Meeting
We rounded up all of our employees for Walnut Capital "Connect," an in-person company wide meeting to regroup after two years apart! We provided an update on all of our projects and what's on the horizon. Followed by a small reception held in the Conservatory complete with food, drinks and fun!
Greater Pittsburgh Festival of Books Partner
We continued to support literacy education by sponsoring and partnering with the first-ever Greater Pittsburgh Festival of Books – a community event that paid tribute to Pittsburgh's literary history and love of reading. The festival celebrated the city's rich literary community by featuring authors, poets, activities, books, comics, entertainments, and publishers, with Bakery Square as one of their locations! Nearly 1,000 residents attended and interacted with several renowned Pittsburgh authors around the East End and within Bakery Square.
Walnut on Highland Recognized for High Resident Satisfaction Scores
Each year, Grace Hill, a company who provides technology-enabled solutions that help owners and operators increase property performance, recognizes individual communities that achieved outstanding performance through the Kingsley Excellence Awards. They named 100 Multifamily properties throughout the U.S. that had the highest Resident Satisfaction Scores in 2021. Walnut on Highland was listed at #11 in the nation for its outstanding work and commitment to their residents!
Bakery Square Public Art Program: Curtis Reaves
Have you seen the artwork on the exterior of Bakery Square? Walnut Capital hosted its third community public art project led by Curtis Reaves, a Pittsburgh native. He worked with 80 students that learned about photography and texture. They had the opportunity to create self-portraits that portrayed the students' individuality.
Grow with Walnut Capital: Helping Connect Communities
In 2021, we launched Grow with Walnut Capital and supported many initiatives throughout the year. It's not just a program, but a promise to help the people in the communities we touch grow alongside us. Our intention is to do more: build more connections, create more inclusive environments and engage in more active listening, to name a few. We're neighbors helping neighbors and we want to grow together. These initiatives will be the product of active community listening because that's how real, positive impact happens.
Larimer-Homewood Connector Groundbreaking
The train tracks found in Larimer and Homewood have presented a physical and symbolic separator to the residents who reside there. This year we announced our latest project will physically connect Dahlem Place in Bakery Square to Mcpherson Boulevard and Fifth Avenue, making the transit between communities easier and attainable for all. This undertaking will turn a 1.5 mile long railroad and transform it into a tree-and-garden-lined road that will welcome cyclists, pedestrians, and vehicles. The area will be traffic-calming and reduce the congestion along Penn Avenue, all while helping the fight against climate change. This new construction will feature a roadway with a protected bicycle lane, a pedestrian sidewalk, a rain garden for sustainable on-site stormwater management, landscape meadow, and a planting buffer along the full length to create a green zone.
Jim Davis Named Maintenance Technician of the Year
As Fall fell upon us, so did more awards! Jim Davis, the Maintenance Technician at Bakery Living won the PAA 2022 Best of Apartment Living Individual Award. We can't think of anyone more deserving and we are extremely grateful for Jim and all his hard work.
More Openings in Bakery Square
Some new additions to Bakery Square opened for business! Alta Via Pizzeria opened its doors this spring serving up some of the best pizza in Pittsburgh. We also added something sweet - Jeni's Ice Cream. Their ice cream is truly one of a kind and the BEST- just ask Gregg, who grabs a scoop of the Milkiest Chocolate nearly every day.
PAA Partnerships
Trace Brewing brought their best beer and seltzers, a DJ and some snacks to pop-up at the PAA every Friday this fall. It was a great way to end the summer on the patio with great views of Oakland.
To ring in the holidays, we partnered with the Oakland Improvement District to present Resort, a programmatic light installation consisting of 40 windows at the PAA. Through the use of custom-designed, architectural light structures the entire corner of the building. Sweeping gestures floated impossibly between floor to floor and window to window.
Employee Birthday Celebrations
We appreciate everything our employees do for Walnut Capital and to say thank you we started celebrating their very special day - employee birthdays. Each month throughout the year we have put together a plethora of events to show our appreciation for their hard work and to wish them a happy birthday! From food trucks, to Pirates games, and a S'mores station, we can't wait to do it all again next year.
Named a Top Workplace
Walnut Capital was also recognized as a Top Place to Work in Pittsburgh for the second year in a row! Being a Top Place to Work is the difference between being a good company and a great company. We are honored to work with a fantastic group of employees and we are excited to see what 2023 has in store for us.
Walnut Capital partners with UPMC Health Plan to open the East Liberty Neighborhood Wellness Center
The community wellness center aims to improve the lives of underserved residents in the East End neighborhoods. Walnut Capital gifted the Center's headquarters to UPMC Health Plan, who collaborated with dozens of community partners and local foundations to bring the Center to life. From job training, education, and enrichment, to virtual medical appointments, the Center will provide residents with resources and support under one roof. It also will have a food pantry, social services, child care, and space for community groups to meet.