Walnut Capital has over 100 employees and counting! Ever wonder who was employee numero uno?

Allow me to introduce Diana Corbett, Walnut Capital's longest standing employee! Let's rewind for a bit.
Diana has known Gregg Perelman for many, many years. Wayyyy back when, Diana would close the books each month for Statlander's Pharmany, a neighborhood drug store that grew to become a nationwide mail service pharmacy owned by Gregg's father. Diana was asked to work at Stantlander's and ultimately rejected the offer because her manager at the time said, "Um… I don't think so. Diana is the HBIC who is hella good at what she does. Get lost." Well, maybe it didn't go exactly like that, but she was such a good worker… Everyone wanted her. According to her, turning Gregg down was the WORST mistake she has ever made. Like ever. So, when the opportunity came again with a different job offer at a place called Walnut Capital, she didn't make the same mistake.
She says the early days at Walnut Capital were really fun. She didn't know Todd but remembers liking him right away. He was smart and easy going. He was also completely opposite of Gregg (not much has changed, huh?) She, Gregg and Todd, worked reallllly hard to get the company off the ground. Of course, she worked the hardest… but is anyone really surprised by that? At the time, everyone worked on everything and they would frequently have "couch sessions" to talk through operations and come up with new ideas. Diana remembers being able to take the lead on projects and new initiatives and appreciated that Gregg and Todd just trusted her to get the job done. The small group eventually began to grow and their tiny office above a coffee shop was always hoppin'. Meetings together, investors stopping by day after day, and lots of parties!
The move to the current spot at 5500 Walnut Street was a GIANT UPGRADE. Emphasis on the word giant!
More departments were forming and the Walnut Capital family was growing. Who was getting the new jobs? Friends and family of current employees. Word of mouth was huge, and still is! It's almost as if every employee at Walnut Capital has their own "family ties" within the company. Diana's started with her daughter, Alissa.
Alissa started coming to the office when she was 16 years old. Still in high school, she would complete small projects to make some money. Eventually she took the lead on leasing University Commons in Oakland and honestly, the rest is history.
I was so impressed by Alissa's organization. I saw her room… it was a complete mess.
Diana never had any reservations about Alissa working at Walnut Capital. She loves her job and is happy she followed in her footsteps!
The two are similar in their work ethic and both always go above and beyond.
In fact, that's her advice for any new employee just starting their career at Walnut Capital.
Go above and beyond what you are asked to do and overachieve when you can. Be a hard worker. Be independent. Don't be afraid to share your ideas.
Although the culture is a bit different these days, she says the head honchos haven't changed a bit. 20+ years ago they argued like a married couple… and they still do. Age has certainly not calmed them down and they both know exactly how to get under each other's skin. But somehow, it works.
When asked if she was surprised with where the company is today, Diana says yes. When they were just getting started, she didn't think they would grow to be one of the most well-known development companies in the city of Pittsburgh, but knew that the pair had the drive to do it. What they have done and are doing is unbelievable. She said that sometimes Gregg and Todd would be equally as surprised as her when big things would go their way.
Even to this day, there are elements of surprise that keep the company moving forward.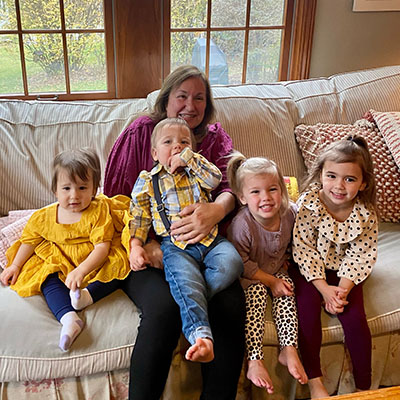 These days, Diana doesn't have her nose in all of the finances anymore, but she still keeps herself plenty busy! Four grandchildren will do that to ya! Between babysitting Alissa's twins, traveling to Detroit to visit with her granddaughters and planning special baking days and themed parties for her littles.
She is busy being the best Grammy ever!
Working at Walnut Capital has been a wild ride and she is proud to be the first employee.
I mean, who wouldn't want to be number one?